Hacia cualquier otra parte - Books
Inspirado por La terre en rond, un mítico libro de viajes que narra la vuelta al mundo a principios de los años 60 de dos franceses a bordo de un Citroën 2CV, un joven gallego llamado Jorge Sierra se ilusiona con el reto de emular su viaje. Tras encontrar un compañero de aventuras para llevar a cabo el proyecto, se ocupa de preparar un 2CV al cual bautiza como «Naranjito», por el color butano de su chapa. Antes de partir, dos amigos se unen al proyecto y preparan otro 2CV llamado Napoleón En septiembre de 2008 los dos coches ponen rumbo a Francia, sin embargo, en Estambul, cuando apenas llevaban un par de meses de viaje Jorge Sierra se queda solo. Es en ese momento crucial donde comienza este libro. Un viaje en solitario desde Estambul hasta Sídney haciendo lo que más le gusta: interactuando con la gente y conociendo culturas diferentes. Cuatro largos años de carretera cargados de experiencias y anécdotas.
Un diario de viaje que el lector podrá ir completando con fotografías y documentación adicional. Una propuesta de edición que viene de la mano del fotógrafo sevillano Guillermo García.
Activities related to this book (Hacia cualquier otra parte):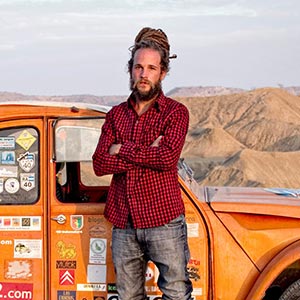 Jorge Sierra is a young man who dared to go around the globe on board a '78 Citroën 2CV. He will tell us about it in detail.
---