Visual i dits i nas i orelles i gust de cireres - Books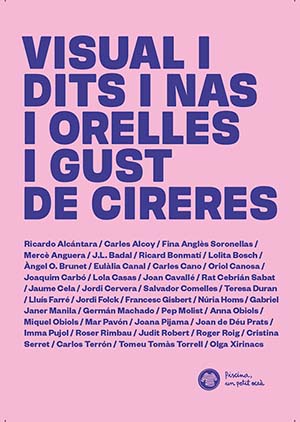 Aquest és un llibre fet a moltes mans entorn de tres propòsits: despertar els sentits, celebrar la literatura infantil/juvenil i guaitar la lletra nua. Un llibre descosit, hilarant, un xic boig… Amb trenta-nou textos escrits amb els dits i la llibertat que dibuixen les paraules.
Autors/es varis (39 en total) Ricardo Alcántara, Carles Alcoy, Fina Anglès, Mercè Anguera, J. L. Badal, Ricard Bonmatí, Lolita Bosch, Àngel O. Brunet, Eulàlia Canal, Carles Cano, Oriol Canosa, Joanquim Carbó, Lola Casas, Joan Cavallé, Rat Cebrián, Jaume Cela, Jordi Cervera, Salvador Comelles, Teresa Duran, Lluís Farré, Jordi Folck, Franscesc Gisbert, Núria Homes, Gabriel Janer Manila, Germán Machado, Pep Molist, Anna Obiols, Miquel Obiols, Mar Pavón, Joana Pijama, Joan de Deú Prats, Imma Pujol, Roser Rimbau, Judit Robert, Roger Roig, Cristina Serret, Carlos Terrón, Tomeu Tomás Torrell i Olga Xirinacs.
Activities related to this book (Visual i dits i nas i orelles i gust de cireres ):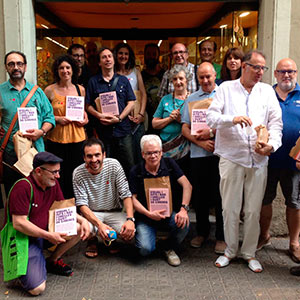 Joan Rioné -the publisher- and Pep Molist -one of the authors- will come and talk to us about a book made by many hands and with three purposes: awaken the senses, celebrate children's books and gaze at the naked word.
---