Barcelona atacada pels francesos - Books
A l'abril del 1706, l'exèrcit de les Dues Corones, format per soldats francesos i espanyols i comandat per Felip d'Anjou en persona, assetja Barcelona per terra i per mar. Tot i que les tropes filipistes són molt superiors en armament i en nombre d'efectius, la valentia dels soldats austriacistes —amb l'arxiduc Carles al capdavant— i l'audàcia i el tremp dels barcelonins aconsegueixen resistir aferrissadament fins a l'arribada de l'estol aliat anglo-holandès. Dos anys més tard, el 1708, és publicat a la mateixa ciutat un exquisit poema èpic en llatí que, per mitjà de l'embolcall literari, escenifica els fets i celebra una de les derrotes més humiliants dels exèrcits borbònics. Aquest volum inclou l'edició del text llatí i la primera traducció que es fa del poema en una llengua moderna.
Activities related to this book (Barcelona atacada pels francesos):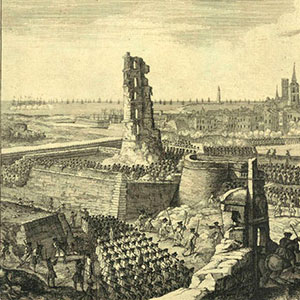 Text/Information only available in Catalan and Spanish at the moment.
---